BIRMINGHAM: There are days when you feel like calling cricket the 'beautiful game.' Wednesday at Edgbaston was surely one of those. A relaxed setting with a decent crowd, a pleasant day under the English sun and two evenly-matched teams fighting for every inch — there couldn't have been a better start to such a high-profile series.
ALSO READ: Pujara's axe whips up selection debate
And from an Indian perspective, the cream on the strawberry is definitely the position they are in after being behind in the first two sessions. At stumps, England were 285-9 with Sam Curran (24 batting) and James Anderson (0 batting) at the crease.
Virat Kohli's captaincy methods sometimes leave a few question marks here and there. But there's no denying his ability to raise his game at crucial moments which turns the match on its head. It was one such moment of brilliance in the post-tea session from the Indian captain that turned the course of the day, if not the match.
Jonny Bairstow and Joe Root had just completed a 100-run partnership for the fourth wicket in decent time and were looking good for many more. Bairstow had pushed R Ashwin (4-60) towards square-leg and ran to complete a couple. Kohli, fielding at short mid-on, chased the ball and just as he stood up to throw, he saw Root (80) struggling to reach his ground at the non-striker's end. In came a bullet throw from the captain that broke the stumps to send Root back and suddenly, the backbone of the English batting line-up was gone.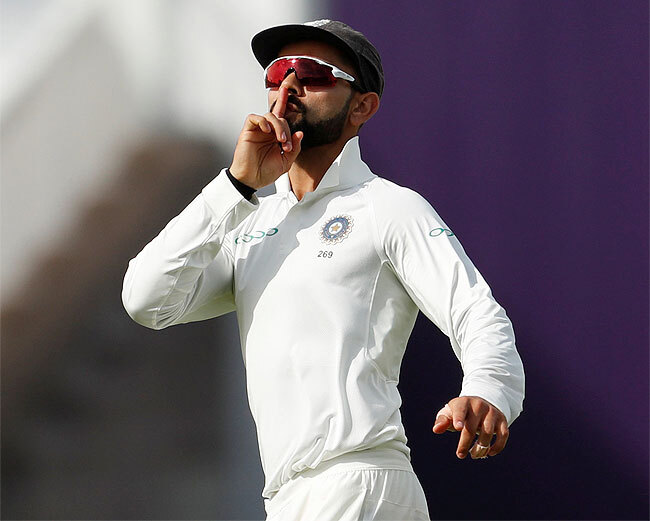 Virat Kohli celebrates after running out Joe Root. (Reuters Photo)


ALSO READ: Virat a great headache for any Pakistan captain: Mushtaq
India sensed an opportunity and came all guns blazing with Ashwin and Umesh Yadav. In a space of 26 balls and 8 runs, England were reduced from 216-3 to 224-6. It was the pressure of the situation that had Ben Stokes soon after when he played a short ball off Ashwin back to the bowler.
Stokes' might be a fortuitous scalp, but Ashwin was quite outstanding through the day on a perfectly good pitch. He was brought into the attack in the seventh over of the day and the offie answered all those criticisms about him being not dangerous outside the subcontinent.
As it happened: India vs England, Day 1
He got
Alastair Cook (13) with a beauty that left the left-hander after pitching to nick his off-stump. That was the boost that he needed so early in the day and after that, the Chennai bowler went from strength to strength with some good old-fashioned slow off-spin bowling with the occasional variation.
If Ashwin was the star, there was another seriously bright spot in the form of paceman Mohammad Shami. He hasn't had things going his way in the last few months both on the personal and professional front, but the Bengal pacer showed in a four-over burst after lunch that he can still be a menace.
Root and Keaton Jennings (42) had put up 72 runs for the second wicket and things were looking good for England. But Shami came in full steam and pitched it up a little bit to induce an inside edge that hit Jennings' pads before trickling on to the stumps. Shami just got the inspiration that he needed and soon after he had left-hander
Dawid Malan leg before with one that came in sharply at a good pace.
It was just after this dismissal that Root and Bairstow (70) took over. But the beauty of Test cricket and the magic of Virat Kohli had the last laugh and India went in a happy lot.